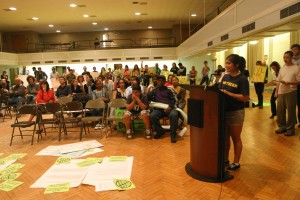 Here the Durham Coalition for Urban Justice (DCUJ) provides an update on Old North Durham Park for all those interested in the struggle to maintain this valuable community resource. Below you will find a brief background, an explanation of what we believe the stakes of this issue are for all residents of the city, and a summary of our Coalition's position moving forward, most importantly, the implementation of City Council Resolution #9281mandating the upgrade and maintenance of the park's full-sized athletic field.
The November 16, 2011 meeting about OND Park saw another wonderful show of support for Resolution #9281 passed by City Council in September 2005 (you can see video of this event and our vibrant community in action here). Around two dozen speakers eloquently expressed, with documentation in hand, full support for Resolution #9281, and condemned the mockery of public process displayed in the multiple attempts to subvert the city council directive. The diversity and size of the group supporting the Coalition—well over 150 people whose presence at these meetings has gone completely unreported in the press—was accompanied by a petition with some 350 signatures and 12 letters of support from organizations across Durham including:
The Durham Chapter of the NAACP ¬ Durham Committee on the Affairs of Black People ¬ The CC Spaulding Neighborhood Association ¬ Unity for Progress in the Community (UCP) ¬ Terreiro de Arte e Cultura ¬ Spirit House ¬ North Durham Community Association ¬ El Kilombo Community Center ¬ Team Soccer ¬ People's Durham ¬ Occupy Durham General Assembly ¬ The Unified Communities of the Occupy Durham Movement
Brief Background
Since Resolution #9281 was passed by City Council in 2005, it has been obstructed by board members of the charter Central Park School for Children (CPSC) who own at least 4 properties adjacent to or in the immediate vicinity to the park. CPSC board members have tried relentlessly to subvert #9281, including an attempt to privately lease the park from the city which would have given them full control over, and profitable revenue from, public use of the park It is important to note that this lease would be in force and this public resource lost had it not been for the efforts of the organizations and community members that today form DCUJ.
CPSC board members and their associates again attempted to subvert Resolution #9281 with the creation of "Friends of Old North Durham Park" (FONDP), privately contracting a park plan that eliminated the full-size athletic field. When CPSC/FONDP attempted to push the plan through City Council without any public consultation, our neighborhood again objected. In response, instead of holding public meetings that would allow for substantive input regarding our park, city staff from Durham Parks and Recreation (DPR) attempted to bypass public opposition by allowing FONDP to organize and cosponsor three meetings about the park, which were carefully designed to suppress community support for a full-sized athletic field.  See documentation here of CPSC explicitly stating to DPR staff that these meetings were merely a formality in pushing through its own pre-existing plan.
The recent November 16, 2011 meeting was really the culmination of efforts to push through a park plan that would subvert the City's Resolution #9281. Throughout this process, CPSC, now with the backing of DPR staff, has manufactured a series of pretexts and excuses as to why a full-size field is either undoable or undesirable. You can see documents disproving these pretexts, line by line, here (Common Myths about OND Park).  In sum, there has yet to be a single public meeting open to substantive public input on the future of OND Park. Consequently, Resolution #9281 for the upgrade of the OND Park is the only plan that has originated from a legitimate public process; all other plans thus far have been privately developed attempts to subvert the City Council resolution in the service of private interests and investors.
If DPR's current claim that they intend to preserve a "full-size field" in a new plan is accurate, there would be absolutely no need to override Resolution #9281; their openly expressed resolve to override that Resolution highlights a duplicitous intent and attempts to create confusion.
The question at this point must be: given the dire lack of athletic fields in our city, City Council's mandate for the full-size athletic field in Resolution #9281, explicit budget appropriations for that Resolution, as well as massive public and community support for its implementation, what is the extraordinary need to obstruct or eliminate #9281?
What's at stake in OND Park?
We can see how those who have not been involved in this issue so far might ask what is so important about the struggle at OND Park?
The reason it has been so difficult to have our full-size athletic field despite overwhelming public support for its preservation and upgrade is because there is much more at stake in our park for real estate investors and developers than the size of the field.
There is a systematic removal or reduction of athletic courts and fields in the park system, which has a disparate impact on the low-income Black and Latino communities that use those spaces primarily for exercise. We can see this in other parts of the city as well where basketball courts were reduced or removed, greatly reducing or totally eliminating athletic activity in those areas, particularly affecting the African American and Latino community. In areas targeted for real estate speculation where property values begin to trump all other values, we see the "redesign" of park spaces away from athletic courts/fields. This shift has a direct connection to the populations the park is intended to serve. The de-prioritizing of the park needs and uses of low-income communities of color who are already subject to the effects of displacement and dispossession created by real estate speculation is irresponsible and indefensible as public policy. Our Coalition welcomes businesses in all of our neighborhoods, but what we cannot allow is that public resources be repurposed as a public subsidy for private gain.
As this struggle has unfolded, we have realized the extent to which collusion between our public officials and real estate developers has subverted the democratic public process. Despite what the media portrays, this not a struggle between "two sides." This is a question of how public money (our tax dollars) and public officials (our representatives) are being used not just to grant favors to private individuals, but to use public resources to subsidize private endeavors that provide exceptional profit for a few individuals but exacerbate inequality in our city. This might explain why active members of Occupy Durham saw our park situation as emblematic of the struggles of the 99% and approached us to offer their support.
What does the DCUJ want?

First, implementation of City Council Resolution #9281 that explicitly allows for a year-round multi-use athletic field at OND Park, the advantages of which are well summarized here by none other than Director of Durham Parks and Recreation, Rhonda Parker.
Second, we would like to see those city staff and officials who have been involved in subverting the public process held accountable, and the integrity of our democratic public process re-established.
Thirdly, we want to see our public resources used for the benefit and progress of the city as a whole and all of its residents. As a city and a community we need to come together to establish a development model for our city that places the value of our residents above the value of real estate.
Finally, we encourage everyone to get informed. If you too see the importance of this struggle over the use of public resources, please feel free to contact us and join our growing Coalition: Durhamcuj@gmail.com. Visit: http://durhamcoalitionurbanjustice.wordpress.com/
Informational Resource: