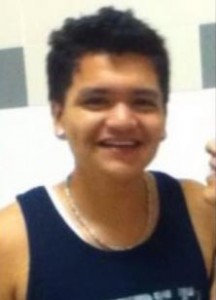 We continue to demand justice in the case of Jesús "Chuy" Huerta. The following is the statement that El Kilombo read at last night's rally.  And despite distractions, we urge everyone to stay focused on demanding answers in this case and supporting Chuy's family [To read in English].
Seguimos exigiendo justicia en el caso de Jesús "Chuy" Huerta .  Lo siguiente es la declaracion que El Kilombo leyó en la marcha de anoche.  Y a pesar de las distracciones, les pedimos a todos seguir enfocados en exigir respuestas en el caso de Chuy y en apoyar a la familia Huerta [Para leer en español].
English Version:
We are saddened and enraged by the death of Jesús Huerta, Chuy to his friends and family. It is a tragic, senseless and unjust loss to his family and friends, and to our entire community. We know what happened to Jesus is not an isolated incident. Our communities live under the threat of this violence on an every day basis.
It is unacceptable that a mother's call to the police for help resulted in her son's death in the back of a police car under police custody. It is unacceptable that anyone die in the hands of the police with no explanation or consequences.
We need to ask ourselves what caused Jesus' death?  What caused Jesús' death is a system that criminalizes and victimizes black and brown youth and communities, a system that seeks to intimidate, terrorize, control, and dis-empower us. It is the same system that has victimized:
Derek Deandre Walker,
Jose Ocampo,
Carlos Riley, Jr.,
Tracy Daquan Bost,
Trayvon Martin,
Stephanie Nickerson,
Renisha Mcbride,
Oscar Grant,
and countless others whose names never even make it to the media.
We in the African-American and Latino community experience daily indignities and violence at the hands of police and the leaders, like Chief Lopez and other politicians, who are never accountable to our communities. When they commit crimes, they aren't punished. When they make mistakes we have to suffer the consequences not them. And when we ask what happened, they don't answer.
As youth, we are especially targeted because the system is scared of the knowledge and power we have, because we see through their lies. We see how friends, family, and neighbors are labeled criminals and locked away in prisons. We see how our families and communities are ravaged by mass incarceration, deportations, unemployment, and jobs that take more life than they give, and how we're being pushed out of the our neighborhoods in a city built on our backs. We see how this system turns our African-American and Latino communities against one another so we see each other as competition and enemies instead of allies.
As youth of color, we know that we are not 'the problem', we know our families aren't 'the problem' and we know that it is a lie that any of us deserve to be treated as second class citizens.
We demand immediate answers to what exactly happened to Jesús in police custody. We demand answers in the cases of Ocampo and Derek Walker, and we demand that all of Carlos Riley, Jr's charges be dropped.
For us to solve this problem, for our communities to live with dignity, we need to turn to each other to create for ourselves what we need. We need to organize as a community. A united and organized community will never be defeated.
El Kilombo is a community organization that brings together migrants, students and low-income communities of color in downtown Durham dedicated to strengthening our collective political struggle.
Versión en español:
Estamos tristes y enfurecidos por la muerte de Jesús Huerta, Chuy para sus amigos y familia. Es una pérdida trágica, sin sentido, e injusta para su familia y amigos, y para toda nuestra comunidad. Sabemos  lo que le pasó a Jesús no es un incidente aislado. Nuestras comunidades viven bajo la amenaza de esta violencia diariamente.
Es inaceptable que la llamada de una madre a la policía para pedir ayuda resultó en la muerte de su hijo en la parte posterior de un coche de policía bajo custodia policial. Es inaceptable que alguien muera en manos de la policía sin ninguna explicación o consecuencias.
Tenemos que preguntarnos a nosotros mismos ¿Qué causó la muerte de Jesús? Lo qué causó la muerte de Jesús es un sistema que criminaliza y victimiza a jóvenes y las comunidades de color, un sistema que pretende intimidar, aterrorizar, controlar, y des-empoderar nos. Es el mismo sistema que a victimizado a
Derek Deandre Walker,
Jose Ocampo,
Carlos Riley, Jr.,
Tracy Daquan Bost,
Trayvon Martin,
Stephanie Nickerson,
Renisha Mcbride,
Oscar Grant,
y muchos otros cuyos nombres ni siquiera llegan a los medios de comunicación.
Nosotros, en la comunidad afro-americana y latina vivimos humillaciones y violencia diariamente a manos de la policía y los líderes, como Jefe López y otros políticos, que nunca se hacen responsable a nuestras comunidades. Cuando ellos cometen delitos, no son castigados. Cuando cometen errores, nosotros tenemos que sufrir las consecuencias, no ellos. Y cuando preguntamos qué pasó, no responden.
Como jóvenes, somos especialmente vistos como blancos de ataque porque el sistema tiene miedo de los conocimientos y el poder que tenemos, porque vemos a través de sus mentiras. Vemos cómo nuestros amigos, familiares y vecinos son etiquetados como criminales y encerrados en las prisiones. Vemos como nuestras familias y comunidades están devastadas por la encarcelación en masa, deportaciones, el desempleo, y los empleos que quitan más vida de lo que dan, y cómo nos empujan fuera de nuestros vecindarios en una ciudad construida sobre nuestras espaldas. Vemos cómo este sistema convierte nuestras comunidades afroamericanas y latinas en contra de unos a otros para que nos veamos como competencia y enemigos en vez de aliados. Como jóvenes de color, sabemos que no somos "el problema", sabemos que nuestras familias no son "el problema" y sabemos que es una mentira de que merecemos ser tratados como ciudadanos de segunda clase.
Exigimos respuestas inmediatas a qué es exactamente lo que sucedió a Jesús bajo custodia policial. Exigimos respuestas en los casos de Ocampo y Derek Walker, y exigimos que todos los cargos hacia Carlos Riley Jr.  sean retirados.
Para que nosotros resolvamos este problema, para que nuestras comunidades vivan con dignidad, tenemos que recurrir el uno a al otro para crear para nosotros mismos lo que necesitamos. Necesitamos organizarnos como comunidad. Una comunidad unida y organizada jamás será vencida.
El Kilombo es una organización comunitaria que reúne a los migrantes, estudiantes e comunidades de color de bajos recursos en el centro de Durham, dedicada al fortalecimiento de nuestra lucha política colectiva.