Zapatista Solidarity Coffee is sold out!
Thank you for your support and enjoy your coffee.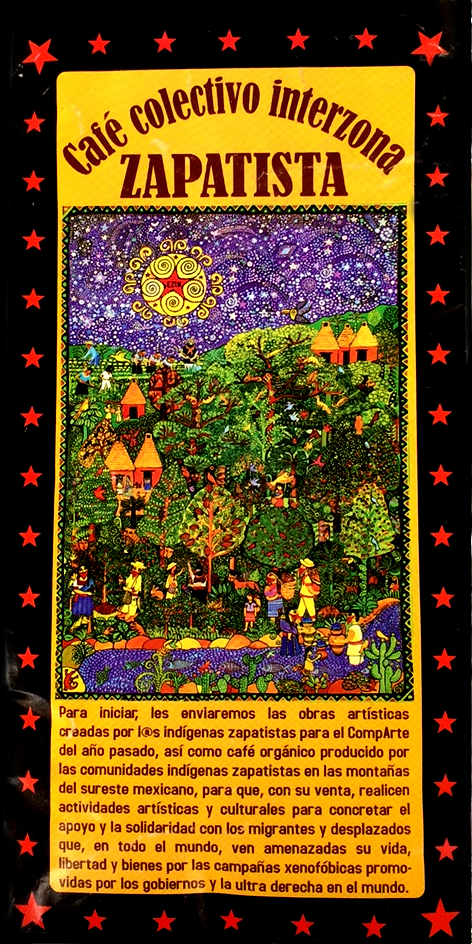 The global rise of right-wing politics means that today more than ever we must build solidarity among all peoples that want to be connected rather than separated by walls.
In order to make this solidarity a reality, indigenous Zapatista communities in Chiapas, Mexico, have cooperatively cultivated, harvested, and processed organic, shade-grown coffee and sent it to organizations across the US. The Zapatistas sent this coffee so that profits from its sale could  support the struggles of migrants and others who suffer discrimination, persecution, dispossession, and displacement, and who are committed to building self-organized alternatives from below.
Zapatista coffee isn't easy to come by and is always a treat, but this solidarity coffee is particularly exceptional because your purchase will go to support the work of building autonomous organizations here in the US. As the Zapatistas say, "This coffee is even more delicious if you drink it in struggle."
Available in the Triangle:

If you would like to purchase coffee, please email us at elkilombo@gmail.com and we can arrange a time and location for pick-up or delivery. 
Cash or check preferred, credit/debit cards also accepted.
Suggested Donation: This is a fundraiser for migrant struggle and prices below are suggested minimum donations. Please consider donating more if your budget allows!
1/2 Kilogram (1.1 pounds), $13 minimum donation
1 Kilogram (2.2 pounds), $24 minimum donation
Outside of the Triangle
We are happy to mail coffee at the donation prices listed above to supporters outside the Triangle!
Orders will be sent by USPS and will arrive within 2-7 days of shipping. For orders over 4.5 kilos, please contact us prior to ordering to arrange shipping. If you are located outside the Southeastern United States, we will put you in contact with another organization selling Zapatista Solidarity Coffee in your area.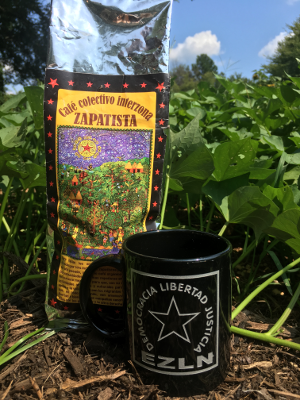 Half-kilo
One-half kilo (1.1lbs) of organic Zapatista Solidarity Coffee, shade-grown in the mountains of Southeastern Mexico.
$13.00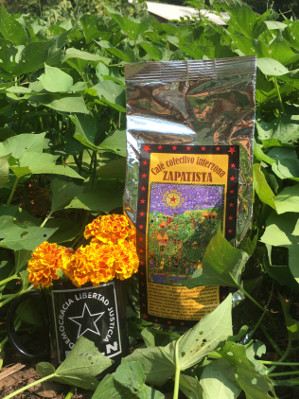 Kilo
One kilo (2.2lbs) of organic Zapatista Solidarity Coffee, shade-grown in the mountains of Southeastern Mexico.
$24.00

Donation
This is a fundraiser for migrant struggle in the United States. Please consider an additional donation if you are able (in $5 increments, i.e., to donate $25 set the donation quantity in your cart to five).
$5.00
Solidarity Coffee FAQs
Who are the Zapatistas?
The Zapatistas rose up on January 1, 1994, against the marginalization and repression suffered by indigenous communities in Mexico for over 500 years. They have dedicated the last two and a half decades of their struggle to building non-violent forms of social transformation by creating community-run health, education, production, communications and juridical systems. In addition to this monumental task of self-organization, they have also continually created and convoked spaces of political innovation and democratic process for Mexican and international society.
Where did the coffee come from?
The Zapatista communities harvested, roasted, ground, and packaged 3,791 kilos of organic coffee from their own fields throughout all five zones of Zapatista territory, which includes the indigenous Tzotzil, Tzeltal, Tojolabal, Chol, Mam, and Zoque peoples. That's almost four tons of rich organic coffee!
How are the Chiapan indigenous communities able to send so much coffee to the United States?
Organization! These four tons of coffee are the fruit of the collective labor of organized Zapatista communities. The Zapatistas have cultivated a practice of solidarity between communities in struggle, and they have sent this high-quality coffee to the United States so that the money from its sale can be used to support the struggle of the migrant community and all those who suffer discrimination, persecution, dispossession, and displacement in this country.
How can I support the solidarity coffee project?
Buy coffee for your friends, family, and comrades! Spread the word! Give generously as your budget allows to support migrant community struggle in the US!