Old North Durham Park Visual Documentation
OND Park Home | FAQs | Timeline | Documents | 11/9/07 Memo | 12/10/07 Memo | 10/21/10 Memo
Old North Durham Park Signage: The city signage at Old North Durham Park (above) shows that one of the official entrances to the park (marked by the two arrows in the bottom-right-hand corner) and the only entrance next to designated public parking for the park (clearly indicated with a "P") is located off of West Geer Street, next to TROSA. One would expect the parking lot and entrance indicated on the map to be available and open.
However, this entrance (at W. Geer St.) to Old North Durham Park's listed public parking and to the park itself is frequently locked. This parking lot was leased by the City of Durham to TROSA for 20 years, as approved by City Council on December 5, 2005.  Why would the city agree to lease the only public parking at OND Park to a private entity for its use and allow both the lot and the entrance to be locked? Also troubling is the fact that the city agreed to lease this lot for a total of $1 per year, despite the assessment of Judy Simuel of Durham's General Services Dept., indicating the lot's fair market lease value as $28,800 for twenty years or $1440 per year.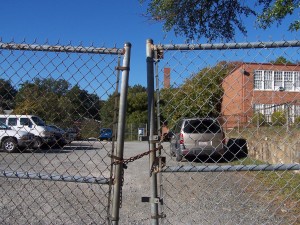 Contrary to the Herald Sun article by Mr. Ray Gronberg on October 27th, 2010, the locked entrance to the parking lot and main entrance to the OND Park is not a one-time mishap or simple misunderstanding. Any resident who lives in the area surrounding Geer St. can report that the gate is locked often and with little relation with park hours. On November 8, 2007, El Kilombo went on record at City Council inquiring about those locks and requesting that they be removed immediately. Why did city council and Durham Parks and Recreation wait three years to follow up on that request, and only after residents brought it to the city's attention yet again? Mr. Gronberg's treatment of the locked gates as a new, trivial issue, and of a neighbor's requests to remove them as an attack on TROSA itself, is poorly researched and mischaracterizes the facts as well as our intentions.
Deterred by the locked gates blocking the main entrance to the park off of W. Geer St., one might think the parking lot adjoining the park off of Foster Street is an alternate option. In fact, during a city council work session held regarding the future of Old North Durham Park on Thursday October 21st, 2010, City Councilwoman Diane Catotti can be heard on record claiming that there is parking available for the park at this lot, which also adjoins Central Park School For Children. However the lot next to CPSC is not public; it is a private lot, sold to TND Capital Management LLC (owned by Bob Chapman) for $375,000 on August 1, 2006.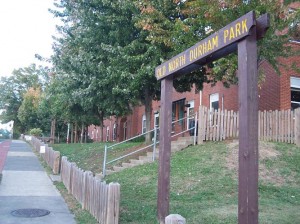 Central Park School for Children (CPSC) has symbolically claimed the western entrance to Old North Durham Park as its own, with a contiguous wooden fence along the front of the school extending to the private parking lot owned by real estate developer and owner of TND Capital Management LLC, Bob Chapman, who is also a founding member of the CPSC board. Only a narrow footpath between the school building and the school's rows of raised garden beds provide public access to the park.
.
Pictured above, the presence of the Trotter Building "patio" on public park property raises several questions. Did the owner of the Trotter Building (CPSC Board member Bob Chapman) receive approval for this patio? How was the approval for building this patio acquired? Why weren't residents informed that permission for construction would be granted to this private owner? Is it now possible for private entities to build on public park property? We are disturbed by the sense of propriety that the owner of the Trotter Building seems to hold over our neighborhood public park. The patio on the park is just one preliminary demonstration of this; the CPSC "master plan" promoted by the CPSC board would be a much more extensive ceding of public space to private and personal interest.
CPSC has reduced public access to OND Park in multiple ways, thereby discouraging park use by the general public. The consistency of their efforts make it difficult to believe these would be a series of random instances, but rather seem to point to a systematic attempt to create a sense of proprietorship to this space. Reduction of public access began with CPSC's purchase of the two-story, city-owned building and plot on Foster St. (PIN 0822-10-90-2692), which included the only ground-level vehicle-access entrance to the park, and which served as an important public entrance to the park. Upon purchasing the building, CPSC prevented public access through that entrance and demanded that city staff give CPSC at least 10 minutes notice every time city staff desired to use that entrance for park maintenance.  This entrance is open today thanks in part to the work of a few concerned citizens (with the assistance of various city departments) who found the request by Central Park School for Children (CPSC) that this access point remained locked to be unacceptable, and spoke up to assure that park access remained open to all. Again, had CPSC's attempts not been realized and resisted, another point of access to the city's public park would have been effectively denied.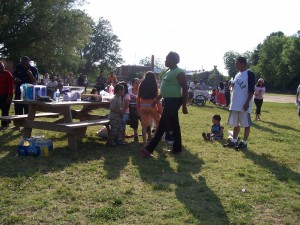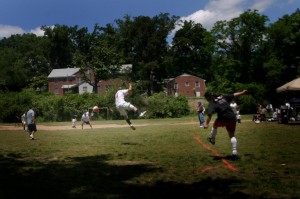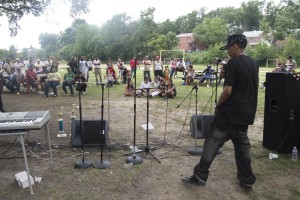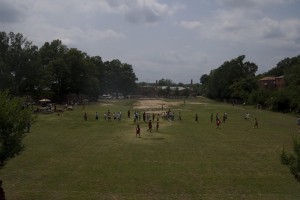 Despite reduced public access (and lack of visible park signage until this past year), OND Park nevertheless has been and continues to be a vibrant and vital space for community gathering and recreation, used mostly by the long-standing low-income black and Latino communities adjacent to the park, as well as other low-income residents of Durham. OND Park's full-size soccer field is the only field of its kind in the downtown area, and it is only one of a few remaining publicly-owned and -managed fields available for soccer or other sports. Durham sorely needs more full-size soccer fields accessible to low-income residents. OND Park has been well-utilized by residents for community-organized after-school soccer programs, adult and youth pick-up games, festivals, hanging out, and other sports-play.
On Sept 6, 2005, City Council passed resolution #9281, reaffirming its earlier commitment to upgrading the full-size athletic field at OND Park.  The resolution stated, among other improvements for OND Park: "The athletic field in the park (330 ft by 180 ft) will be renovated with grading, sod, and irrigation. This field will serve tournament level and adult soccer as well as junior-level games, several of which can be played simultaneously across the width of the field…With the current shortage of athletic fields in Durham, DPR staff feels that we cannot afford to reduce or lose one of the existing fields."  We feel similarly and believe the city can and should ensure that we have a quality full-size soccer field at OND Park for all to enjoy.
Below are photos from the Tuesday, March 15, 2011 public meeting about the Park, showing residents who are part of a broad coalition called the Durham Coalition for Urban Justice (of which El Kilombo is a participating organization).  The Durham Coalition for Urban Justice insists that the Old North Durham Park be improved as a full-sized public athletic field, which can continue to be used for recreation by the neighborhood's community residents, who are primarily low-income Black and Latino residents.  The Durham Coalition for Urban Justice further insist that the future of our public parks, public resources, and public spaces cannot be determined through the private processes and private funding of those who can mobilize large sums of money for narrow private interest.