Donate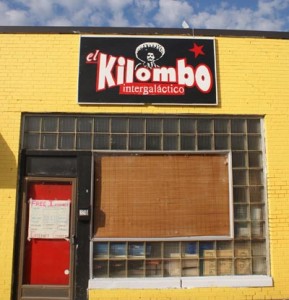 Make a donation today! Join us in the movement for racial and social justice by strengthening community self-determination through housing, employment, and food cooperatives, and through opening new community spaces for learning and organizing.




Our vision:
We believe that to fight the disparate effects of both development and economic crisis on low-income communities of color, we must build from the ground up our communities' capacity for self-determination, spaces "where everything that is done for us is done by us."
Who we are:
El Kilombo is a community organization made up of migrants, students, working class residents, and people of color in Durham, NC. We opened the doors of our community center on May 1st, 2006 as a neighborhood social space and center for community programming. We started free programs – youth and adult education programs, health and legal clinics, a weekly dinner, neighborhood festivals and more – proposed and created by residents to support our community's general well-being.
Over the past nine years we have grown beyond our space to create a community garden that provides healthy food and an outdoor gathering space, employment cooperatives that provide stable and dignified work, and a low-income housing cooperative through which we have acquired, renovated, and collectively managed housing. Through thousands of hours of community labor, we are working together to build a community and a city based in equality and cooperation.
Although we've built a strong community through the center and its programs, we've also experienced directly the effects of 'urban revitalization' and the consequent displacement of neighborhood residents – all low-income people of color living in the city center. The financial crisis has also disproportionately affected our community, with cuts in social services, rising unemployment, and the defunding or privatization of public housing and public schools. These issues are accompanied by a rise in criminalization and policing that often target our youth.
Why we need your support:
On September 1, 2015, we closed the doors of our community center due to skyrocketing rents in downtown Durham, and are currently seeking a new space (Please read our statement regarding the closure of our center on Geer St.). Despite the center's closure, our various cooperative projects (housing, food, work, education) continue uninterrupted and are as important as ever.
Your support is needed to:
Transition to a new community center and organize spaces for community seminars and programs: A center serves as a key site for movement building and a vital space of encounter where communities with distinct experiences of struggle can listen and learn from each other and create ways to act effectively in common without erasing our differences.
Launch and grow worker cooperatives: We are supporting the growth of a home cleaning cooperative as they bring on additional women as worker-owners and are assisting with the launch of a construction cooperative. Our support includes regular consultations and financial advising as well as ongoing trainings and workshops on topics such as business finances, co-op structure, marketing, conflict resolution, team-coordination, making construction estimates, budgeting, cooperatives and social justice, the racialized history of domestic work, etc.
Sustain the Community Garden and Chicken Coop: The community garden and chicken coop enable our community to increase skills and knowledge for growing healthy organic fruits and vegetables and raising chickens for fresh organic eggs. The garden also provides a space for multigenerational learning and socializing while increase our community's capacity to produce our own sustenance.
Expand Low-income Cooperative Housing: Through thousands of hours of community labor and utilizing all the skills and capacities within our community, we continue to create and maintain affordable cooperative housing whereby those with the least access to stable, safe, quality housing are directly involved in building, maintaining, and managing housing as a community of residents.
We are setting our donor drive goal at $10,000 to help meet our most basic costs, though exceeding that goal would allow us to reach our greatest potential in advancing these important initiatives.
Become a "Kilombo Sustainer" (Recurring Donations):
Become a "Sustainer" by committing to a monthly donation. Select the level of your monthly contribution and click the "Subscribe" button to the left. After clicking the "Subscribe" button below, you can choose to pay with a Paypal account OR a debit/credit card. To pay by debit/credit card, look toward the bottom of the page for the credit card icons, and click on "No Paypal account? Pay using your credit or debit card."  Please note that the Paypal site will require that you provide a valid email address.  Your Sustaining donation will be automatically deducted each month. You can choose to modify your giving level at any time.
Note: If you prefer, you can also setup recurring monthly donations through your bank (whereby your bank 1. automatically mails a check to Kilombo monthly, or 2. your bank makes an automatic direct transfer monthly. In the case of direct transfer, email info@elkilombo.org and we can provide you our bank routing and account information.).
Make a One-time Donation:
Online via Paypal or debit/credit card: Make a one-time donation by clicking the "Donate" button to the left. If you do not have a PayPal account: After clicking the button to the left, ignore the PayPal login box, and instead click "continue" under the phrase "Don't have a PayPal account?" at the bottom of the page. Enter the amount you would like to donate, and remember to click "Update Total."
Via Check: Mail a check made out to "El Kilombo Intergaláctico" to P.O. Box 2103, Durham, NC, 27702.
El Kilombo is a 501(c)3 nonprofit.
Donations to El Kilombo are tax-deductible to the extent permitted by law.
---